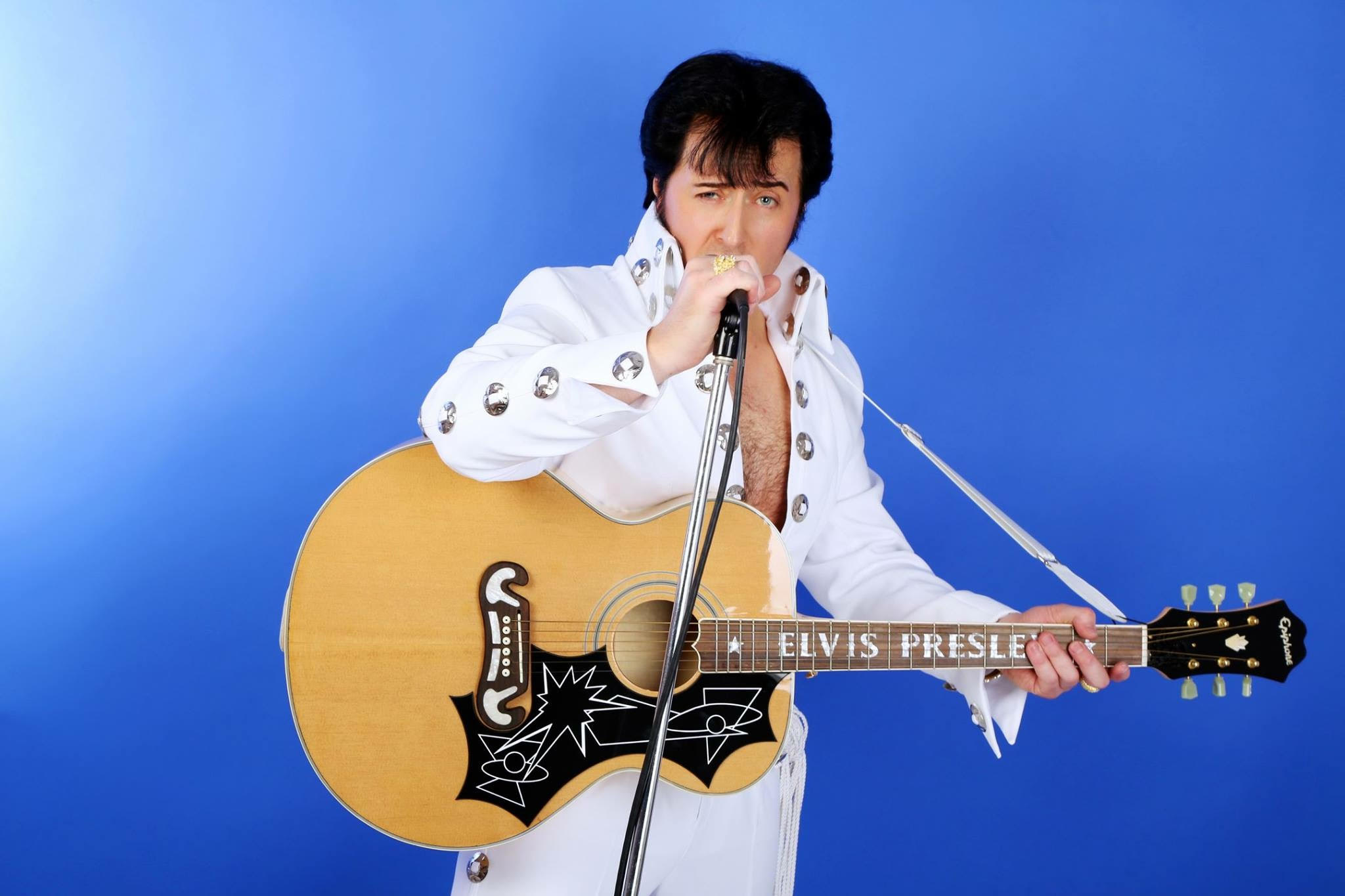 Andy Reno is an 'award winning' Elvis Tribute Artist. He has gained critical acclaim from fellow Elvis tributes, fans and Elvis's personal friends; he has also won singing competitions including one organised by one of the UK's biggest radio stations. He has performed his show worldwide and showcased at many large Elvis festivals. He has starred in many theatre shows as Elvis and has produced and starred in his own theatre show Elvis The Rock 'N' Roll Years.
His suits are made by B&K Enterprises, the world's premier costumers who work with Elvis's original costume designers. He uses top quality sound and lighting equipment, tailored to the size of the venue and has the most authentic backing tracks in the world. His ability to reproduce the feel of Elvis's shows and performances is second to none. He also works with a band for larger venues.
Testimonials:
"You look so much like Elvis It's Scary. We'd love to sing with you Andy! We'd be honoured."
– The Blackwoods, Elvis's favourite Gospel group who sang at Elvis's mother's funeral and later on at Elvis funeral.
"I have known Andy on and off stage for a number of years and have hired him to perform four times. Each time he performs he brings the house down. The finest  Elvis tribute I have ever seen. In my capacity to sit in judgement on many levels the man is indeed a star there is no doubt. He is going to be a major player with his Elvis act. Each time Andy appears here in Macclesfield with his Elvis tribute show, he makes the local papers. In truth he does look like Elvis, I should know I met Elvis in '74 and '75, he also sounds like him. Also he is a beautiful, gentle man who comes down among the audience and meets and greets. All the crowds go wild for him. He is a deeply loved and respected man around these parts. Whenever he is due to appear, they just won't miss that man. That voice that  Elvis sings is not dead but back among us singing loud and clear. Elvis is back to stay.
– Sean Mulhern, former Magistrate
"This guy Andy is one of the best out there! I have been in shows in Vegas, Reno, Tahoe…for 31 years. I saw many guys try out for shows I was in Legends Of Rock 'n' Roll, American Superstars, Elvis Elvis Elvis, For The Love Of Elvis etc. 90% OF THESE ETA's NOW WOULD NOT BE HIRED IN THESE SHOWS, but Andy would make it- I REALY LIKE THIS GUY. YOU ROCK ANDY!'
– Brian Andrews ETA, from Reno, America
"Andy performed a fantastic showcase for us at The Hilton Elvis Easter Spectacular. A true Elvis fan, Andy incorporates the vocals, moves and costumes into his performance with ease. A big hit with all in attendance, we look forward to working with him again soon."
– Michael King ETA and owner of The European Elvis Championships and The Easter Spectacular
" I first saw Andy's Elvis tribute show nearly 20 years ago, and I was as excited back then as I am now, but just as a good wine improves with age, so has Andy, when you attend a Reno show, you feel as if Elvis Himself had just leapt onto the stage, be it either 50's 60's or 70's Elvis this guy can do it all, and BOY what a voice, he has an awesome vocal range, he can have you crying with his heart breaking love songs, dancing to his fast rockers, or just sitting back and enjoying Elvis In Vegas,  Andy's stage costumes are so authentic, you'd think that they had come direct from the Graceland Archives, but what gets to me most about this man is his obvious and honest love of Presley, He may have the brooding good looks, the curled lip, and shaky leg, but its sheer determination to keep the spirit of Elvis Presley alive in our minds and in our hearts, which he does from the second he steps onto the stage, up until the time he leaves….Elvis may have left the building, but Andy Reno will make sure that he never leaves our lives!! " – Ged Fitzgerald
"Wow you're Amazing"  – Deborah Houghton
"Wow you are great" – Faye Solad
"You were absolutely Brilliant…. and i'm not the biggest Elvis fan either" – Caroline Gilmartin
"Thanks for a brilliant night, you were amazing" – Michelle O' Donnell
"Love the singing,Love the clothes. One word from me Andy – Awesome!"-Lorraine Hart
"Fantastic – A Class Act" – Beverly Pearson Bracken
Repertoire List
Burning Love
Something
You Gave Me A Mountain
Steamroller Blues
My Way
Johnny B. Goode
It's Over
Blue suede Shoes
I'm So Lonesome I Could Cry
I Can't Stop Loving You
Hound Dog
What Now My love
Fever
Welcome To My World
Suspicious Minds
I'll Remember You
An American Trilogy
Long Tall Sally / Whole Lotta Shakin' Goin' On
A Big Hunk Of Love
Can't Help Falling In Love
Blue Hawaii
Hawaiian Wedding Song
I Got A Woman
All Shook Up
Love Me Tender
Jailhouse rock
Don't Be Cruel
Heartbreak Hotel
Hound Dog
Memories
Mystery Train / Tiger Man
Baby What You Want me To Do
Are You lonesome Tonight?
Yesterday / Hey Jude
Runaway
In The Ghetto
Words
Sweet Caroline
Stranger In The Crowd
Just Pretend
Bridge Over Troubled Water
Funny How Time Slips Away
Polk Salad Annie
You've Lost That Loving Feeling
I Just Can't Help Believing
How Great Thou Art
What'd I Say
One Night
Make The World Go Away
The Wonder Of You
Hurt
Way Down
Moody Blue
Always On My Mind
Love Letters
Unchained Melody
Walk A Mile In My Shoes
Promised Land
Little sister / Get Back
Reconsider Baby
Patch It Up
In The Ghetto
Don't Cry Daddy
I've Lost You
Release Me
You Don't Have To Say You Love Me
That's All Right
Proud Mary
Never Been To Spain
Love Me
Teddy Bear
The Impossible Dream
It's Impossible
Amazing Grace
Lead Me Guide Me
Stand By Me
(They'll Be) Peace In The Valley (For Me)
It Is No Secret (What God Can Do)
Help Me
Crying In the Chapel
For The Good Times
An American Trilogy
Always on My Mind
Separate Ways
Loving You
Wear My Ring (around your neck)
Treat Me Nice
You're So Square (Baby i Don't Care)
I Want To Be free
Young And Beautiful
Don't Leave Me Now
King Creole
Crawfish
Lover Doll
Young Dreams
As Long As I Have You
'68 Comeback Medley
Guitar man
Trouble
King Creole
Let yourself go
It Hurts Me
Where Could I Go But To The Lord /Up Above My Head/Saved
Blue Christmas
Trying To get To You
If I Can Dream
Lawdy Miss Clawdy
'68 /comeback Medley – Nothingville /Big Boss Man /Let Yourself Go
A Little less Conversation
Rubbernecking
Money Honey
Paralyzed
I Want You, I Need You, I Love You
I Was The One
Tutti Frutti
One Side Love Affair
Shake, Rattle, & Roll
Blue Moon Of Kentucky
That's When My Heartaches Begin
G.I. Blues
Wooden Heart
Pocket Full Of Rainbows
Frankfurt Special
Doing The Best I Can
Did Ya Ever
Tonight Is So Right For Love
Follow That Dream
King Of The Whole Wide World
Rock-A-Hula-Baby
Slicin' Sand
What A Wonderful Life
Devil In Disguise
Fame And Fortune
She's Not you
The Girl Of My Best Friend
Marie's The Name
Stuck On You
C'Mon Everybody
Viva Las Vegas
They Remind Me To Much Of You
Mine
I'll be Home for Christmas
White Christmas
Winter Wonderland
Silver Bells
Here Comes Santa Claus (Right Down Santa Claus Lane)
Santa Claus Is Back In Town
Plus many many more from Elvis plus other singers