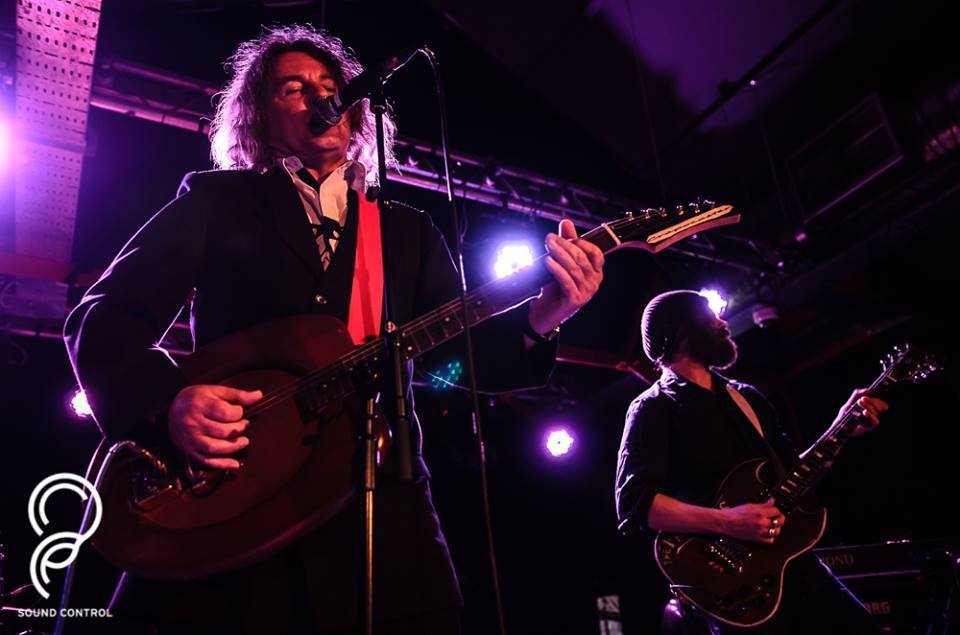 Nig Richards & The Primates invite you to walk on gilded splinters as they deliver prime Rock, Rhythm & Blues and good old Rock 'n' Roll Mayhem! A greasy but sizzling alternative to microwave pop; this unlikely assembly of round-the-world rockers are wound up and ready to go. Caution! Please stay behind the safety line people, as Nig & the band take it up to 11 with classics such as 'Take Me to the River', 'Suzie Q', 'Gimme Shelter', 'I Walk on Gilded Splinters', 'Rock Me Baby', 'Cherry Red', 'Nadine' & many more!
Nig Richards, Guitar, Slide & Vox
Charly T, Lead Guitar
Dr. Yad, Bass
Gav Wilks, Drums
Nig Richards is an engaging front-man who works the crowd; the band features a strong guitar duo and delivers a two-hour+ show.
To Book please call Shiny Music Now 07788 673 466
La Grange
Get It On
Maggie May
Brown Sugar
It's Only Rock n Roll (But I Like It)
Superstition
Layla
Let's Stick Together
On The Road Again
Once Bitten Twice Shy
Roadhouse Blues
Start Me Up
That's All Right Mama
Johnny B. Goode
You Keep a Knocking But You Can't Come In
Shake Your Money Maker
Gimme Shelter
Twisting The Night Away
Rock Me Baby
I Walk On Gilded Splinters
Susie Q
Great Balls of Fire
Whole Lotta Shaking Going On
Highway 61
 Love In Vain
I'd Rather Go Blind
Move It On Over
Riot In Cell Block Number 9
Three Button Hand Me Down
Brand New Cadillac
Pills
Dead Flowers
Don't Start Me Talking
Take Me To The River
Nadine
Don't Lie To Me
Cherry Red
High Heel Sneakers
Some Kinda Wonderful
Sixteen Tons
Carmelita
Who Do You Love
One Bourbon, One Scotch, One Beer
Help Me
I'm Ready
Framed
Heartbreak Hotel
If I'm On The Late Side
American Woman
Twenty Flight Rock
Summertime Blues
Magic Bus
Rocking All Over The World
Take Me To The River
Too Much Monkey Business
Subterranean Homesick Blues
Dinners in the Dog
Nadine
Smells Like Fish
Sixteen Tons
I'm Ready
Pills
Leopard Skin Pillbox Hat
Highway 61
Dead Flowers
Gimme Shelter
Cherry Red
Rock Me Baby
Had Me A Real Good Time
I Walk On Gilded Splinters
Jesus On The Mainline
Stop Breaking Down
Shake Your Money Maker / Shake, Rattle & Roll / Flip Flop & Fly / I'm Going Home / etc. (medley)
Framed
Riot in Cell Block Number Nine
Bottle Up and Go
Brand New Cadillac
Don't Lie To Me
Do You Want My Job
Hula Hula Boys
Bourguois Blues
One Bourbon, One Scotch, One Beer
Who Do You Love
Love In Vain
Three Button Hand Me Down
Help Me
Spoonful
Can't Judge a Book
Brown Sugar
Carmelita
Baby Get It On
That's Alright Mama
Roxette
Suzie Q
Roadhouse Blues
On The Road Again
Shouldn't Call The Doctor
Rainy Day Women
It Hurts Me Too
Diddy Wah Diddy
How Can A Poor Man Stand Such Times And Live